Black Drawing Salve has been used for centuries to provide relief for discomfort associated with minor skin irritations. Uses for ages to draw out splinters, stingers and boils. I first heard about black drawing salve from my crafty friend Bonnie Bartley. Read about her
black drawing salve project
here: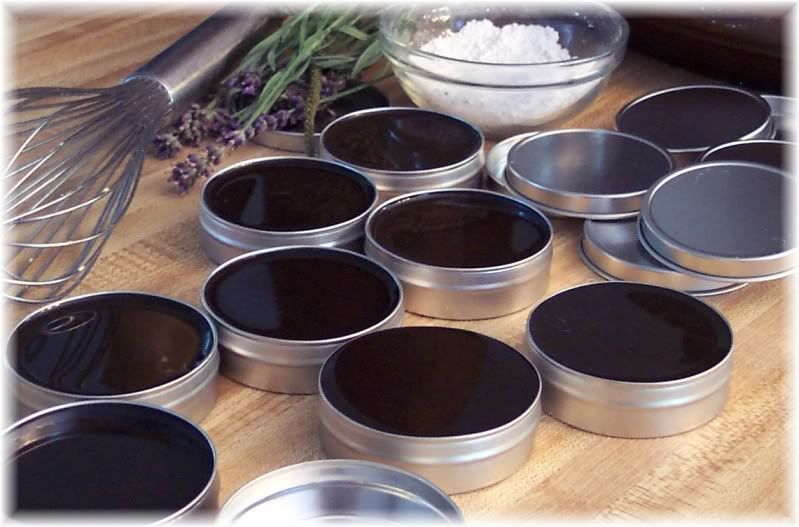 Black drawing salve is a traditional old time country remedy. I have formulated this item based on recipes found in centuries old historical documents combined with Pennsylvania Dutch herbs.
The main ingredients are
locally harvested Amish bee's wax,
olive and jojoba oils infused with traditional herbs along with a little pine tar, activated charcoal, Vit E. and kaolin clay.
Comfrey Root is a useful and valuable herb. Traditional herbalists apply the powdered root of comfrey to minor wounds, insect bites and bruises. It can be used in baths as an astringent and to soften the skin. The roots, leaves, and extracts of comfrey can used in salves and ointments.
The herb plantain is often considered a weed. It has a gentle astringent action, which soothes minor wounds, blisters and rashes.
The University of Maryland Medical Center notes that plantain has a reputation as an herbal pain reliever for the stings or bites of insects. Simply mash a leaf to release its juices and apply to the bite or sting. Plantain also helps with poison ivy, simply rubbing
a leaf on affected skin helps ease itching.
Chickweeds are edible herbs that are are very nutritious, high in vitamins and minerals. Chickweed contains Ascorbic-acid, Beta-carotene, Calcium, Magnesium, Niacin, Oleic-acid, Potassium, Riboflavin, Selenium, Thiamin, and Zinc. The entire plant is used by herbalists to aid minor skin conditions.
Common burdock, lavender, chamomile and rosemary complete the herbal additions to the cold oil infusion
.
My garden and wild harvested herbs are air dried then crushed with some activated charcoal. The charcoal acts as an abrasive to aid in pulverization and release the beneficial essential oils. The slurry is left to macerate in olive oil for 5 days then strained three times through layers of cotton cheesecloth.
The infused oil is used in the making of the salve.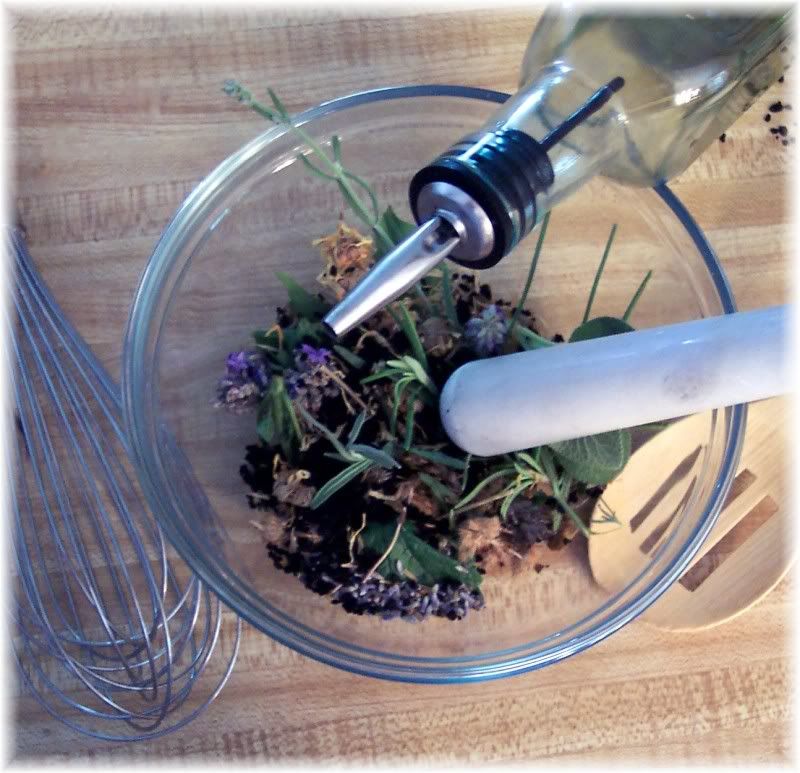 The final preparation consists of blending pine tar, kaolin clay, a small amount of lanolin and Vit E into the herbal infusion. The addition of melted pure bee's wax creates the soft ointment consistency that is poured into recyclable tins ready for use.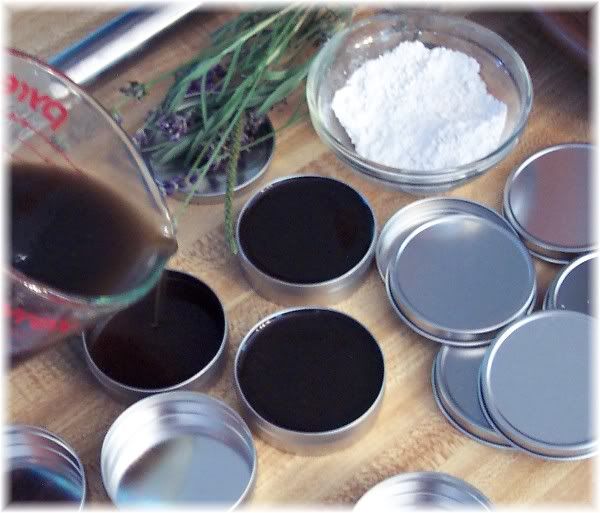 Black Drawing Salve is a strongly scented product. It is all natural. This balm is not intended to replace medical advice and is not for extended use, if irritation develops, discontinue use.